Detouched, 2005-15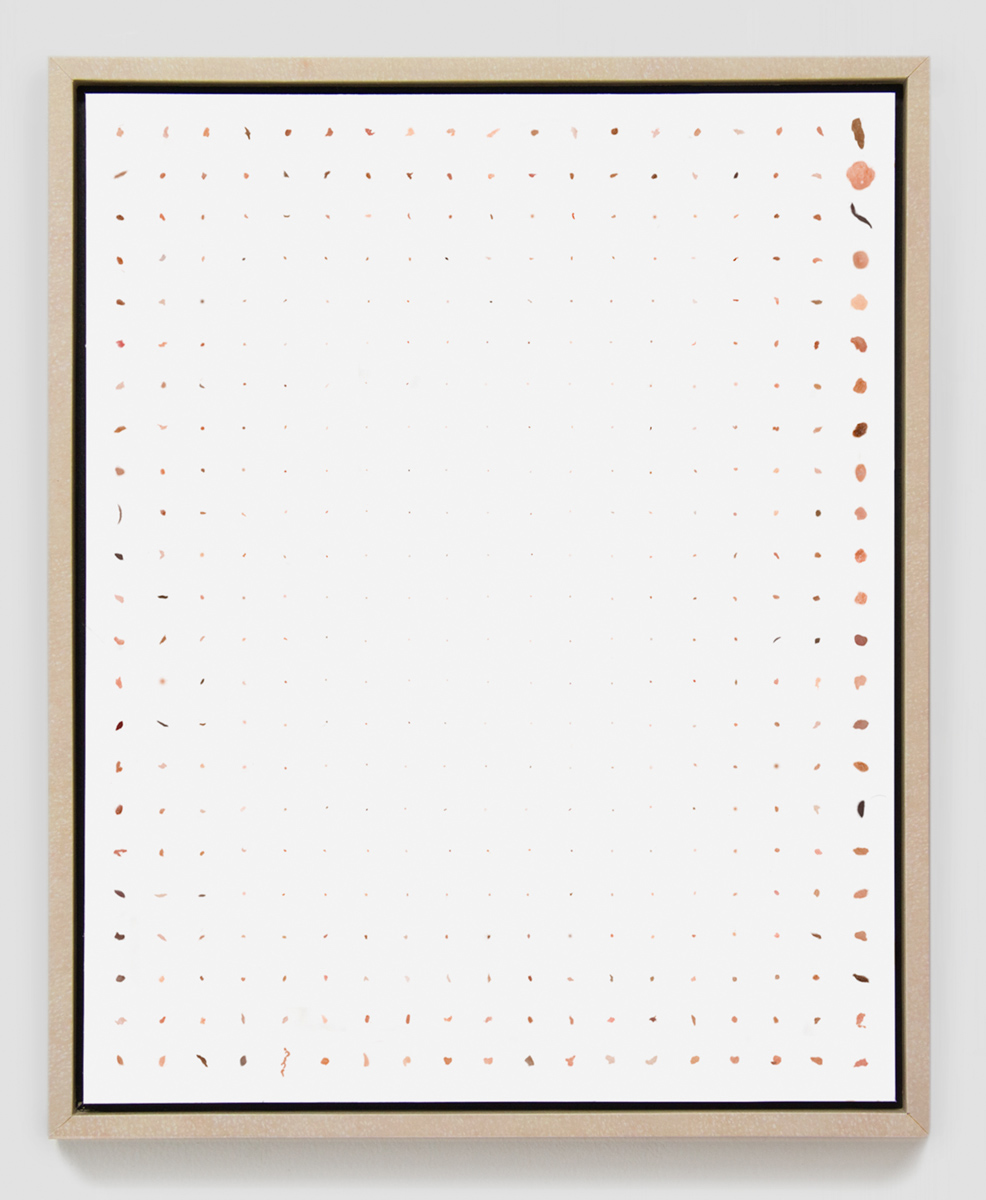 inkjet prints of facial imperfections, 4 x 5 to 30 x 40 in
frames wrapped in adhesive vinyl print of skin



Compendium, The Islip Art Museum, East Islip, NY, 2015
Superposition: Observing Realities, Trinity Church Museum, New York, NY, 2013
Day Job, The Freedman Gallery, Albright College, Reading, PA, 2012
About Face, Thomas Robertello Gallery, Chicago, IL, 2010
Living & Dreaming, Bronx Museum of Art, Bronx, NY, 2009


Detouched is a collection of abstract portraits. My professional work as a digital photo-retoucher, which involves eliminating imperfections such as blemishes, shadows, dust, and other "unsavory" elements in photographic portraits, influenced this series. The final works are created from the physical "flaws" that one uses to define oneself—wrinkles, moles, blemishes, and stray hairs—which are often removed from commercial portraits. Each face is digitally erased except for these imperfections, which now seem to float in a white void. This new configuration no longer bears any facial resemblance and instead it suggests a nebula or celestial body.


Drawing Portrait (composit), 2010, inkjet prints of moles, blemishes, wrinkles and stray hairs on sintra
frame wrapped in adhesive vinyl print of skin, 40 x 30 in

This work was commission for the exhibition Day Job at the Drawing Center in NYC in 2010. The exhibition looked at artists who used their day job within their practice as a positive element. For my piece Drawing Portrait (composite) I decide to photograph and retouch all 16 staff members at the Drawing Center. Each of their individual imperfections were overlaid using ones eyes as the center to create a single piece.


I Retouch Myself, 2007, inkjet prints of moles, blemishes, wrinkles and stray hairs on sintra
frame wrapped in adhesive vinyl print of skin, 30 x 24 in